We've all heard about the unfortunate plight of wild albino animals-- they're different, they stand out, they're an easy kill for predators. So I set out on a mission to find out just how this affects hamsters and everyone who loves and cares about them.
Above is a photo of a true albino hamster-- that is, a hamster whose genes have rid them of pigment. They appear white with light pink skin and slightly red to pink eyes.The red/pink eyes thing is a big one... many white hamsters are mistakenly called albino even though they have dark (brown/black) eyes.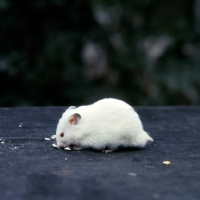 The Facts
albino hamsters can occur in both Syrian and dwarf blodlines
in both cases, however, albinos are usually smaller than their pigmented siblings
in some cases, albino hamsters are born without eyes and die young (according to the UK Hamster Society.) These rare cases are known as anoptalmalic whites.
contrary to popular belief, it is unproven that the eyesight of an albino hamster is any worse than that of it's pigmented siblings, because hamsters as a whole tend toward bad eyesight.